Being at the conference was an amazing experience. Imagine 30,000 Rotarians from about 200 countries all being together in the one place.  We have met some wonderful people from a number of countries. USA, Asia; Africa; India; Malaysia, Canada,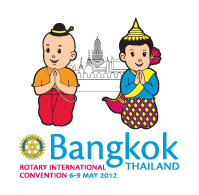 Australia were particularly well represented. There were also Russia, China, France, the Middle East and many other countries. Many traditional costumes added exotic colour. Max did his best with colourful shirts and handing out tiny Koala bears but couldn't compete with the ladies from Nigeria.  I attended several sessions on social media at the World Conference in Bangkok and am pleased to report that Fremantle is well up on the latest.  These sessions emphasised the critical need for Rotary to use all social media techniques  available to get our message out.  Max attended  sessions on micro banking and was able to get some ideas and information on this programme to bring back to the club .
Rotary, a what a wonderful worldwide organization it is, and we have felt very proud to be part of it.
Max and Margie Coxall