At last the day of the Port to Port arrived and under the delightful Western Australian sunshine the machine to operate the run stirred to action. For an inaugural event in Fremantle City the tents went up, the start line erected, volunteers distributed to action stations and raffle tickets run late sales………all through the help of the team of volunteers!
In the coming weeks we can study the actual results and things to do better next time, but I would like to thank the hard working committee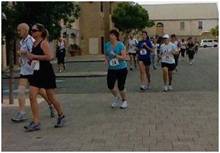 that put many hours into frequent meetings to achieve the result and lay the foundation for many more such events :Stuart Clark, Paul Chorlton, Geoff Dunstan & Peter Tagliaferri.
Maisie Vaughan and the wonderful team of supporters that sold the raffle books either through attendance at Shopping Centres or through friends and importantly returned to Stuart Clark to count the dollars and a truckload of coins.The website was very professionally designed thanks to Paul.
Our sponsors that supported us Foodworks, Landcorp, Fremantle Ports, Minuteman, Bendigo Bank, The Sunday Times ,Healthways Fiesta Holidays and Strategic Air a big thank you!.
Deb Hill and the team at Red Kite, Deb for attending the important meetings and sourcing volunteers and always available for support. Sports Performance executed the run and their expertise was appreciated on the day.