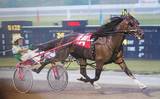 The Rotary Club of Fremantle Trot Night is to be held on Friday 1st June at Gloucester Park. We are seeking race sponsors for 10 races.
The major sponsorship ($1,000) has naming rights for the major race and is entitled to a full page race book advertisement. In addition they present the main trophy and are entitled to 4 guests in the committee room. Other race sponsors ($500) have naming race rights and a third of a page race book advertisement. There are also 2 half page race book advertisements available for $250 each.
We are also seeking horse sponsors at $50 each. If a sponsored horse wins, the sponsor receives $100. As in previous years, our members are asked to go out and find as many sponsors as they can. It is an important fundraising event for our club raising about $10,000 for our community charities.
We encourage members and others to be there on the night for a meal and a lot of fun. Please bring as many friends as possible, we will have entry passes for them. More details on that side of things to come.We are indebted to Gloucester Park Harness racing for allowing us this fundraising opportunity. Our thanks to them will be to encourage as many people through the gate as possible.