Latest Care for Craig news:
Working Bee – 22 May 2011
A Letter if Thanks – 01 Jun 2011
Recently the Rotary Club of Fremantle instigated a project to help a young couple in need.
The project will involve some hands on busy bee's to do some gardening and maintenance.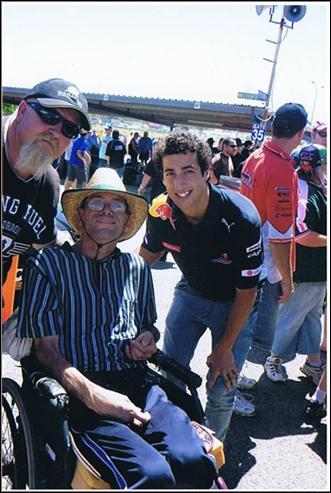 There wil also be some fund raising events to provide some money to carry out some repairs and maintenance to their home.
If you can offer any assistance ( see the club's events calendar for dates of working bees) please contact Michael Grabau on 0438 611761 or email to mgrabau@bigpond.com.
All donations will be gratefully accepted – these can be paid directly to the club:
Bendigo Bank, BSB: 633 000 Account No 134768597.  Please make a notation of Care for Craig and your name if you wish.
Alternatively contact Michael Grabau as above for other arrangements.
If you would like to send a message or comment on this project please do so on the clubs blog.
Craig's & Shona's Story.
Craig and Shona are a young married couple aged in their early 40's who met in high school and married in the early nineties.  They purchased a home in Hamilton Hill and after completing high school Craig went to work and became a qualified Locksmith.  Shona went on to university to study education and is the Music Theatre Coordinator at John Curtin College of the Arts in Fremantle.
Craig was always a sporting lad and from a very early age played football and cricket and later softball and like most young couples they looked forward to the future and building a life and family together.
However, when Craig was in his mid 20's it became evident that he had a condition known as spinocerebellar ataxia.
Spinocerebellar is a hereditary disease which strikes in an indiscriminate manner within families affecting both genders.  Sometimes complete generations will be unaffected and in other cases 1 of a number of siblings will be singled out whilst the others go unscathed.
Sadly In Craig's case he lost his Grandmother and Father to the condition and both of his brothers also have the condition.
Craig has not been able to work for several years and has required care for a long period of time so Shona is the family bread winner.
In more recent times it became impossible for Shona to care for Craig and continue to work full time.
Craig is now living in a care facility where he can have the necessary care he needs and Shona is readjusting her life to living on her own and brings Craig home for weekend visits.
Over the past 15 years it's been difficult if not impossible both from a financial and physical sense for Craig and Shona to maintain the upkeep on their home which is now badly in need of some work.  The garden is over grown, the reticulation needs repairs, and the house needs some work done inside.
This young couple have no one to turn to for help  – remember that Craig has no father, he can't call on his brothers, Shona has no other siblings and her parents are  no longer young or in good health.  Craig's mother Nola works very long hours as a full time community carer and is the backbone of support for her 3 sons giving every spare moment of her time and whatever she can spare financially to meet their needs.
This young couple is very deserving of a little help.