Our trot night was held on Friday 1st June at Gloucester Park and once again was a great success.
Thanks to the support of our ra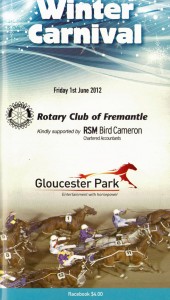 ce and horse sponsors we have raised in excess of $8,700 for our charity funds.
These funds are particularly useful as they underpin support of our many of our local community projects, youth initiatives and Rotary overseas projects. Rather than have a single beneficiary of the night we can help many people.
Our thanks to our race sponsors RSM Bird Cameron Chartered accountants (major sponsor), All States Liquor Wholesalers (two races) , Sadleirs Nexus, RH Trotter& Co, Cash Converters, Halls Quayside Transport, Nilsen Electrics, Homestyle Salad makers and Victor Paino & family.   Also thanks to Myaree Ceramics and Mike Nichol for other advertising support and the sponsors of 80 horses.
Gloucester Park management and staff were very generous and highly efficient in putting the project together and worked in very well with us.
Jean Tait made a very good speech in the trophy presentation for the main race. Our major sponsor representative RSM Bird Cameron partner Jason Hennessy made the trophy presentation.
The night would not have been a success without the magnificent support of our honorary members Victor Paino and Vince Sgro. Victor managed to source most of the race sponsors and many horse sponsors and Vince put a lot of work into the preparation for the night as well as getting many horse sponsors.